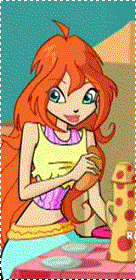 Hi, everyone! I'm Bloomerica, Admin. and owner of Winx Club 4 Ever! I asked Ian if I could join his blog and he said yes, so I figured I should put up and introduction.


I'm from Canada, Ontario and currently still lives there.

I've been a HUGE Winx fan ever since it came out in 2004. My fave Winx fairy is Bloom, and my favorite guy is Sky. I love the plot they have for the fourth seaason.

I've discovered Winx-Fairies while looking up pictures on the net of the fourth season. (I know, weird way to discover a blog right?). After that, I've been inspired to make my own blog. Phoebe helped me with everything and I couldn't have done it without her. After that, I've read a whole bunch of Winx FanFic and decided to write my own. I'm working on When A Part Is Gone right now.

There are 5 authors on my blog. I am the first, Ginny is the second. Ginny was the winner of my contest and won the prize of being an author of my blog. The third is Phoebe, I've given her the position because of everything she's done for me. The fourth is VeronikaStella, My best friend who made an acount two days ago. And The fifth is my other friend believixMUSA, owner of Winxclubnowand4ever.

I play Bloom in Gracix, a part I got for being the director's friend! I love doing the dubb, especially seing all the hard work everyone put on it at the end of the day.